Click Here to Sign the Guestbook
A Letter From John on Father's Day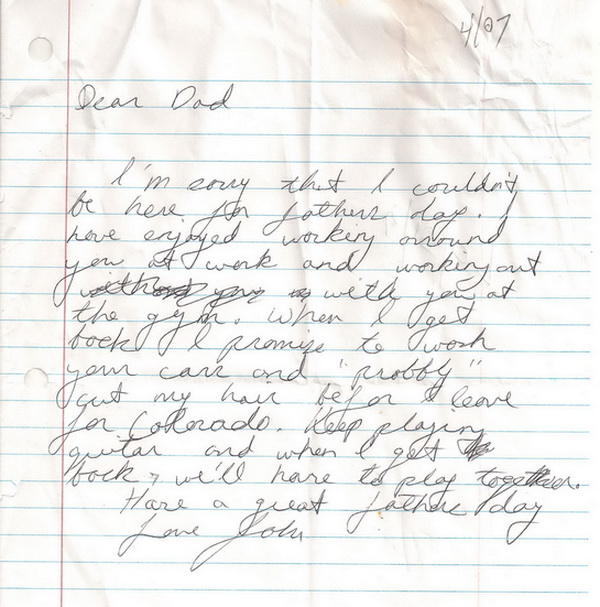 Tattoo Tribute to John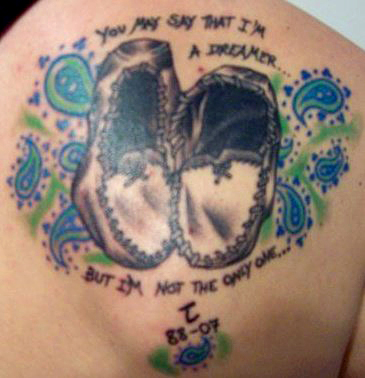 July 22, 2009
It's been quite a while since I've posted something out about my son, John Phillip Miller, and his memory. June 28, this year, John would have been 21. John passed September 29, 2007. His recent birthday was very hard for me and I know it was for you that knew him. I just have to keep remembering how luck I was to have had him as my son and how fortunate I am to have so many wonderful memories. I also am so thankful that he made a decision for our Lord and I know that I'll see him again.
I just want to share something special I saw today. Addison showed me a picture of the tattoo Neal Hagood just got on his back in John's memory. I've forwarded the e-mail to you that Addison sent me. I can't keep up any more but I know of 4 tattoos that his friends have had done in John's memory. There may be more. It's almost been two years and there's ANOTHER tattoo!
Neal was a very good friend of John's. Neal loved John. They respected each other's talent. Neal is a great artist. So was John. Neal is, and John was, "a dreamer"! That's for sure. Let passion grow in your lives and dream more. That's what I want to share with you. That's what John would want to share with you! That's just one of the things he taught you that knew him, and me.
Blessings to you all.
John's dad, Phil Miller
"Stand by Me"
Jan. 14, 2009
Click on the link below for some beautiful music. John would LOVE this! He would enjoy jamming with this. Click here to see a video on how the documentary was created.
Playing for Change: Song Around the World "Stand by Me"
In Memory of John...
Apr. 23, 2008
The newspaper provided an online guestbook for people to sign much like the one on this website not long after John's death. Many kind people took the time to express their sympathies and it can be read below.
A Teacher Remembers
Mar. 21, 2008
Hello,
It is at this time when many of us sit and reflect on the past year and have a desire to reach out to those that have touched our lives. I am no exception to the rule.
This, as most are, has been a year of ups and downs. My heart aches still with the loss of a former student I had the opportunity to work with. He was a wonderful musician and a kind sensitive young man. I, again, want to extend my deepest sympathies to those who knew and loved John. He is truly missed.
This year's message to me has been one about patience. I am surrounded by change. I see it in the eyes of my students. I hear it in the phone calls I am privileged to sit in on and I witness it at my home while I watch my own children grow and learn. While all of this change is swirling about me I am reminded time and time again the true process of change takes time, trials, and balance.
Victor Hugo wrote; "Have courage for the great sorrows of life and patience for the small ones; and when you have laboriously accomplished your daily task, go to sleep in peace. God is awake." I love this quote. It reminds me that through being calm as well as courageous I will learn and develop as I should. Nothing of importance will develop instantly. Change, like the development of our beautiful children, takes time. I know it can feel discouraging when we see old behaviors and attitudes creep back into our homes. But, these are our opportunities, not our time to give up.
I want to express my warmest of holiday wishes for you all. I have heard and believe that the joy in getting to a destination is not in the arrival but in the journey. Enjoy the journey that we are all on and share your experiences and wisdom with those around you. /p>
Truly,
Matthew Hendry
Discovery Academy
A Letter from Sam
Feb. 20, 2008
hello sir my name is sam jones i live in nc and was a very good friend of john's. we were at DA together and he also visited with me for a week or two when i lived out in utah. we had many good times together and became as close as brothers we always sang together. our favorite song to perform together was "up on cripple creek" by The Band. John made a very positive impact on every person he encountered and definitely brought joy to my life i send my condolences and would love a t shirt and to make a donation to your family to help cover expenses or help anyway i can we are all in pain right now and this is a slow and hard process of healing but i know john was a very loving person and is at peace now and i cant wait to see him again in rock n' roll heaven. please take the time to respond if possible
Dear Sam,
It brings joy to my heart to hear from you. I remember John telling me about visiting with you. I'd like to speak with you on the phone. His friends are my friends for life and I want to stay connected. Please come visit us when you can. It helps us to spend time with his friends. You could meet some of his friends here. I'd LOVE for you to see his room and share more memories with us. I'd love for you to meet my wife, John's older sister and her husband and two children, and John's younger brother. We really want to meet you. I can't tell you how I have grieved. I love John so much. I've been working on the foundation and things are going great with that. I have been working on a web site for him. The site is: www.johnmillermemorial.com. I have a friend who is doing the site for free. She is giving all her time and paying all the expenses!!! I have a lot of things to put on the site. I do a little and break up and have to get back to it later.
Sam, my mobile is 706/373-6090. My home is 706/860-6090. Call me sometime. I want us to share more about John and plan a visit!!/em>
Thank you so much for e-mailing me. John's dad, Phil Miller
I Want To Go To Heaven On The Day That I Die
An Original Song by Phillip H. Miller
Feb. 2, 2008
Today I wrote a song in memory of John. It's about the time he prayed to follow our Lord when he was 5 years and 10 months old. I know you can't tell the melody with just the chords, but I added them anyway. I play it on the guitar as I sing. The words and tune came to me in about 15 minutes from the Lord. I'd like to write several other things about John as I move on both grieving and with the joy of his memory. This expressing of song and words is very helpful for me to get out. The experience I had with John on that special day he accepted our Lord is the most meaningful day I had with John but I had many, many more special days and I have many, many more special memories.
Thank you all for your friendship. Sharing John's memory with you is important because John's memories are very important to me. I need to share them with the people I admire and appreciate. May God bless you today.
Obituary
UKIAH, Calif. - Mr. John Phillip Miller, of Belair Rd., Evans, son of Dr. and Mrs. Phillip Miller, entered into rest on Thursday, September 20, 2007 of a heart illness while traveling in California. A memorial service will be held at 11:00 a.m. on Tuesday, September 25, 2007 at Warren Baptist Church with the Rev. Travis McNeal officiating. John was born June 28, 1988; his desire was to attend Savannah College of Art and Design. He enjoyed traveling and experiencing all that life had to offer. His creativity through art and music has been a blessing to many people. John was happiest when he was able to spend time with those less fortunate. In addition to his parents, John is survived by his brother, Joshua Miller of Evans; a sister, Whitney Granade and husband, Joel of Augusta; two nephews, Hudson and Hayes Granade,; others include many uncles, aunts, cousins and friends. John was the grandson of the late Mr. Sidney S. Miller and Mrs. Carolyn Miller of Irwinton, Ga. and the late Mr. and Mrs. John Lee of Augusta. As a tribute to John, a foundation will be established in honor of his memory at First Bank, 375 Fury's Ferry Rd., Martinez, Ga. 30907.
Locks of Love Letter
Dear Karin,
I read the other day that you were interested in hearing why a person would donate their hair to Locks of Love. I wanted to let you know about the donation that my son, John, made.

My precious son, John, passed away on September 20th of this year. It has only been 3 weeks so writing this is part of the healing. It strengthens me to share stories about John. John was only 19 years old when God called him home to be with Him. John always seemed like such an old soul. He was the perfect baby and child. He was my best friend. As a teen, he became more distant as he was trying to take in the whole world. John, with his sweet spirit had a hard time understanding why the world, including his parents, were not perfect and he became very dismayed. Through some difficult teenage years, we ended up sending John to a special program in Idaho where he spent 42 days in the desert with other teens who had issues that they needed to work out. After that, he finished up his high school days in a boarding school in Utah where he actually completed his 12th grade year in about 3 to 4 months.

John took a year off from school to spend time with family and friends, read, write, further develop art and music, and work so he could have enough money to go to California and be with the homeless. He went, for the first time the summer of '06 and he went back again late this past summer of '07. His goal was to have $2,000.00 in his pocket before he left for his trip. His favorite means of transportation was the bus. He liked meeting the different people on the bus and would enjoy sharing food with them. He had such a heart for those less fortunate than himself. John could have had anything in the world from us that he wanted but he hated material things. He never asked us for anything. Pretty unusual these day.

John spent six weeks in California and he would call us once a week to let us know how he was doing. He loved sleeping in the parks with the homeless. He ate most of his meals in the soup kitchen but he fasted often. He took a backpack with a few items, his guitar, and a sleeping bag that he strapped onto his backpack. He wore the moccasins he made on his feet when he wasn't barefooted. He was such a simple person always looking for the good in everyone and wanting to give a helping hand.

John was not about possessions but about being real. He considered others and was drawn to be with those who were suffering. He listened and encouraged. He was extremely talented in music and art. He played the piano, guitar, drums harmonica, and sitar; all extremely well. He was planning on attending Savannah College of Arts and Design. He had shared with me that he thought at some time that he wanted to work in a program like the one in Idaho where he could help teens.

John called home on the 18th of September, crying because he was in so much pain with his chest. My husband told him to get to a hospital immediately and he said he was too weak. He did find a ride and was treated and released. He was given compazine for his nausea and pain medicine for his chest pain. His pulse was 120; it's normally 60 at the most. They did very little for him only taking an x-ray and no other testing. John has never, never questions authority and he was told that he had pleurisy of the lungs. They told him to come back the next day if he wasn't better. Well, he wasn't better and checked into a motel a 7:30 the next morning I assume to get out of the weather and heal. He told some people at the motel that he must have the flu because he had so many of the symptoms. He passed away that night and his autopsy showed that he had 3 cups of horrible fluid surrounding his heart due to severe inflammation. His heart just couldn't pump the blood anymore because of the pressure.

John had a very handsome, blonde head of hair when he passed away and it was just long enough to have cut for Locks of Love. I know my consenting to give his hair would have made him so very happy. I would love one day to see the child that gets his precious hair. We were very honored to donate John's hair for it would have been what he wanted.

John's tragic passing is so horrible but I know that John's spirit will live on in so many people's lives. So many people, his friends and his friends parents, have told me that they have never met a kinder person and a person that was so humble. My husband and I have heard story after story of how he listened, encouraged, gave money, and made people feel better because he had risen above being absorbed by the problems of this world which enabled him to reach out to others.

My husband and I have started a foundation in John's name that we will use to help those less fortunate. The foundation contact info is: John Phillip Miller Foundation, First Bank, 375 Fury's Ferry Rd., Martinez, Ga. 30907. We will spend our lives keeping our son's spirit alive by telling others of our son's gifts of mercy and humbleness. Our desire is to challenge other's as John challenged us. Those of us who knew John experienced a life unselfish and very kind and he will never be forgotten.

Thank you. God bless.
Sincerely from John's Mom,
Laura Miller